Boucar Diouf
Biologist, comedian, author, and television and radio host
Honorary University Doctorate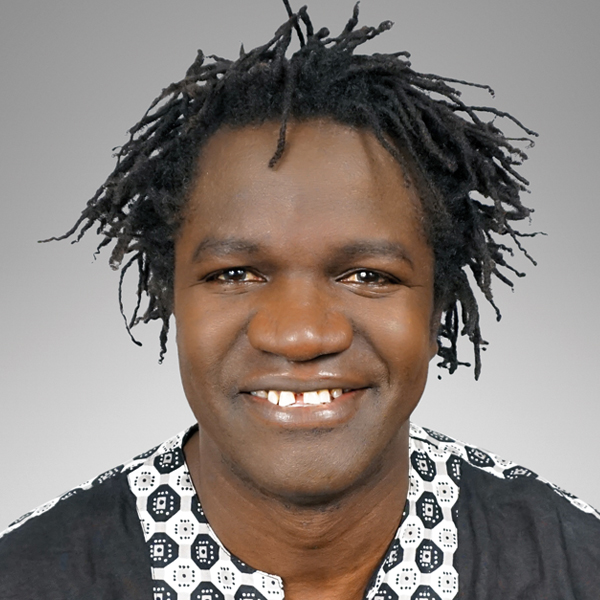 Boucar Diouf arrived in Québec en 1991 with a master's degree in biology from the University of Dakar to do a doctorate in oceanography at Université du Québec à Rimouski (UQAR). After earning his PhD in 1999, he spent the next seven years at UQAR teaching subjects as varied as human physiology, adaptive biology, and structural biochemistry. To help his students understand the course material, he created a series of comic videos he dubbed Boucardises. So impressed were they by his talent that they signed him up to audition for the Juste pour rire comedy festival.
And so began a remarkable career in comedy and communication for the scientist. Boucar Diouf has toured three different one-man shows across Québec and the rest of the francophone world since 2010, all of them nominated for Olivier awards, Québec's top comedy. His fourth show—a wise and witty homage to his beloved St. Lawrence River—is a perfect example of his approach, with its artful blend of humour, popular science, and social commentary. In addition to comedy, Boucar Diouf has hosted a number of popular TV shows and been a regular commentator for public affairs shows and for the daily La Presse. He has also written 10 books and hosted several radio shows, including La nature selon Boucar on Radio-Canada.
As a fervent lover of the French language, he uses its poetic power to talk about science and spread a message in favour of environmental protection, tolerance, and social harmony. Turning a critical but caring eye on society and its foibles, he offers timely insights into social issues and provides an inspiring model of inclusion and commitment to the common good. His humanist values and scientific rigour have been recognized with a number of honours and distinctions, including the Charles Biddle Award highlighting contributions from Quebecers of different cultural backgrounds, and the Pierre Dansereau Award from Association des biologistes du Québec.