Brigitte Coutu
CEO of RICARDO Media Inc.
Honorary Doctorate in Nutrition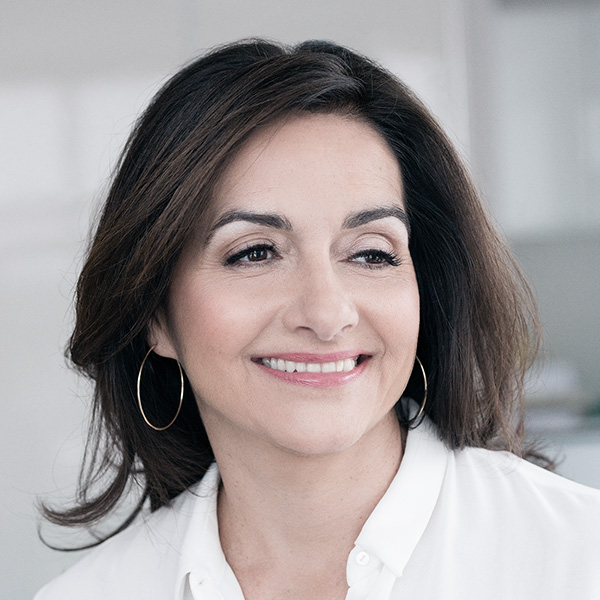 The Faculty of Agriculture and Food Sciences is proud to honour Brigitte Coutu, an accomplished businesswoman with a degree in nutrition. Her leadership, vision, scientific rigour, and business acumen have made her an inspiring model of entrepreneurial success and a huge contributor to healthy eating habits.
Jean-Claude Dufour
Dean, Faculty of Agriculture and Food Sciences
A graduate of Université de Montréal with a degree in nutrition, Brigitte Coutu entered the business world in 2002, founding RICARDO Media with her spouse, Ricardo Larrivée.

From the first, she brought keen business sense and management skills, professional dedication, and respect for science to the venture. She is the mastermind who turns Ricardo's big ideas into big successes. Ms. Coutu's hard work and uncompromising standards have carried the RICARDO brand to great heights.

Today Brigitte Coutu is CEO of RICARDO Media Inc. She leads a team of more than 150 employees working in the company's many areas of business, including magazines, books, TV production, a website, kitchen accessories, table linen collections, shops, restaurants, and a line of gourmet products. She oversees the rigorous recipe testing process and the production of learning materials for all the company's distribution platforms, two key components of the firm's success with consumers.

Ms. Coutu has built her business around the importance of cooking and eating together. In this way she shares the values of the Université Laval School of Nutrition, which aims to promote and pass on knowledge that encourages people to adopt healthy eating habits, try new foods, savour their time at the table, and learn the preventive benefits of a healthy diet. Her work to further this vision of nutrition has had an extraordinary impact across Canada.
"Nutrition has provided a compass for my life in a way I never could have imagined. The three years I spent at university and my multiple internships to earn my nutritionist degree had a huge influence on the businesswoman I have become.

"I'm no longer a nutritionist but I'm just as excited about nutrition as ever. It's part of my life. Plus I get to drive the narrative at my firm as we work to inform, educate, and answer questions from millions of consumers on our various digital and print platforms.

"You can't build a company centred around family and food by yourself. This extraordinary honour from Université Laval really goes to all the members of my team. My staff pour their hearts into promoting health and good food, and I would like to thank them. I never dreamed I would receive such a fine honour. I would like to thank Université Laval. It fills me with pride and inspires me to continue to pursue the mission we've made for ourselves at RICARDO Media: to promote the importance of cooking and eating together."
Brigitte Coutu