Pauline Marois
Politician and Premier of Québec (2012–2014)
Honorary Doctorate in Social Work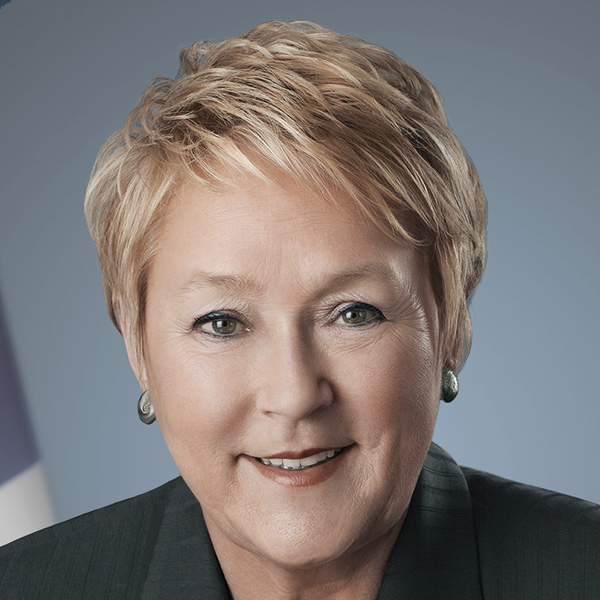 Ms. Marois has left an indelible mark on Québec society with her great humanity, determination, and leadership. Her contributions as a social worker, administrator, and politician are innumerable. The Faculty of Social Sciences is very proud to welcome this distinction conferred on her.
François Gélineau
Dean, Faculty of Social Sciences
Pauline Marois studied social work at Université Laval and completed an MBA at HEC Montréal. A community activist, she led a local community services centre then worked to create a service to respond to social emergencies. She moved on to hold various positions in minister's offices before her first election as an MNA in 1981. At the age of 33 she became a minister in the government of René Lévesque.

Premiers Jacques Parizeau, Lucien Bouchard, and Bernard Landry appointed her to one important position after another, including Minister of Finance, Chair of the Conseil du trésor, Minister of Health and Social Services, and Minister of Education. She was the third woman to hold the position of Deputy Premier of Québec and would become the first female Premier of Québec. She spent more than 30 years on Québec's political scene and headed the Parti Québécois from 2007 to 2014. Having led nine provincial ministries, Ms. Marois has held the most ministerial positions of anyone in Québec.

Pauline Marois also created Québec's early childhood centres, helped found the Outaouais Association coopérative d'économie familiale (ACEF), led the effort to secularize French- and English-language Catholic and Protestant parochial schools, and introduced full-day kindergarten.

Ms. Marois broke the glass ceiling, demonstrating resilience and strength throughout her career as a social worker, administrator, and politician.
"I appreciate this personal recognition, and I accept it with a special thought to all those who step up and get involved in the social and political spheres. These women and men work hard and with heart to build a more just, more humane society."
Pauline Marois