Canada Excellence Research Chair in Photonic Innovations
Younès Messaddeq provides Canada with unique expertise in the synthesis of glass materials and specialized optical fibres used in photonic components for communication devices.
Background
Humankind has worked with glass since ancient times. From Galileo's telescope to Newton's prism, glass has played a major role in our most significant scientific and technological discoveries. In the mid-1960s Charles Kao—who would go on to win the Nobel Prize in physics in 2009 for his work on light transmission—accurately predicted that optical fibre would one day replace copper cable as a conduit for high-speed communications.
Younès Messaddeq's appointment as Canada Excellence Research Chair (CERC) in Photonic Innovations in the field of information and communications technology will catalyze research on new types of glass and optical fibre that will help the country solidify its position among the world leaders in optical and photonic technology. Advances in fibre optics have resulted in significant improvements in communications, information collection and storage, and the design and performance of medical devices. Future innovations involving these very thin and flexible glass and plastic fibres will improve and accelerate information transfer, increase the accuracy medical instruments used for diagnostics, surgeries, and state-of-the-art non-invasive imaging, and improve the sensitivity and accuracy of remote sensing technologies in a range of environmental conditions.
Mission
To provide Canada with unique world-class expertise in the synthesis of glass materials and specialized optical fibres with a view to developing photonic communication devices.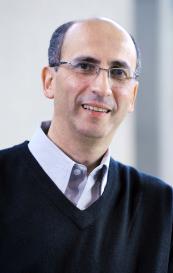 Chairholder
Younès Messaddeq is one of the most accomplished researchers in the field of optical and photonic materials. He has published numerous articles about his innovative work on new glass materials in such leading journals as Journal of Chemical Physics, Journal of Materials Chemistry, Journal of Non-Crystalline Solids, and Applied Physics Letters.
In addition to his academic research, Professor Messaddeq has taken part in a number of research and industrial development initiatives with leading companies such as Ericsson in Sweden, Verrillon in the U.S., and Saint-Gobain in France. He is also involved in partnership programs with international research groups in France, Germany, and the U.S. Prior to being named the Canada Excellence Research Chair in Photonic Innovations at Université Laval, Professor Messaddeq headed up the research program at the Institute of Chemistry, Universidade Estadual Paulista, Brazil.
Professor Messaddeq holds a Ph.D. in chemistry and a bachelor's degree in solid state chemistry from Université de Rennes 1, France. He has been a visiting professor at the Physics Institute of São Carlos, Brazil; the Université de Bourgogne, France; and the University of Münster, Germany. He has also served as a visiting researcher and fellow at the National Institute for Inorganic Materials in Tsukuba, Japan. Younès Messaddeq's main fields of research include the study of new glass materials with specific properties for the development of microstructured fibres, fibre lasers, and optical devices. He also works on advanced materials made from bacterial cellulose for medical applications and on flexible optical materials such as organic light-emitting diodes.
Objectives
Conduct leading-edge research in collaboration with industrial partners to train specialists in the field of glass materials and establish a platform for the development and commercialization of special optical fibres
Develop new glass materials for the manufacture of a new generation of optical fibres
Improve the performance of existing glass and fibre technology and other optical devices derived from them by developing new methods of synthesis
Establish Canada's first research and training institute for glass materials
Benefits
The study of new glass and glass-ceramic materials with specialized properties will be essential for the development of innovative optical devices. Université Laval's critical mass of expertise in optics and photonics and its state-of-the-art research infrastructure will facilitate the rapid and successful development of Professor Messaddeq's research program. His work will have immediate applications for industry, specifically for biomedicine, security, defense, the environment, and optical communication.
Among other projects, Dr. Messaddeq and his team are currently working to develop new fibre lasers for use in dentistry and the beauty industry. They will also play a critical role in advancing work on special fibre sensors made of infrared materials—an area that is of considerable interest to the environmental sector and the oil industry. Their work will also lead to the creation of a new technology for measuring nutrients in soil, a valuable asset for the agricultural industry.
Dr. Messaddeq's arrival will lead to a lasting contribution that serves future generations of researchers and facilitates the creation of Canada's first glass materials research and training institute. In the near future holographic videoconferencing, remote surgery, and omnipresent surveillance systems will become part of our daily lives, generating astronomical amounts of data that must be transmitted, stored, and processed at inconceivably fast rates. Current trends show that electronic technologies may be nearing the limit of their ability to meet these needs. Optics and photonics will be the only technology capable of sustaining the communication and information revolution. With its 5-decade track record in optics and photonics and over $50 million in recent infrastructure investments, Université Laval is well positioned to meet clearly defined challenges as it welcomes this research chair dedicated to the design and development of innovative photonic components.