The first chair in the world to research the microbiome, metabolic health, obesity, and diabetes sets up shop at Université Laval: Creation of Canada Excellence Research Chair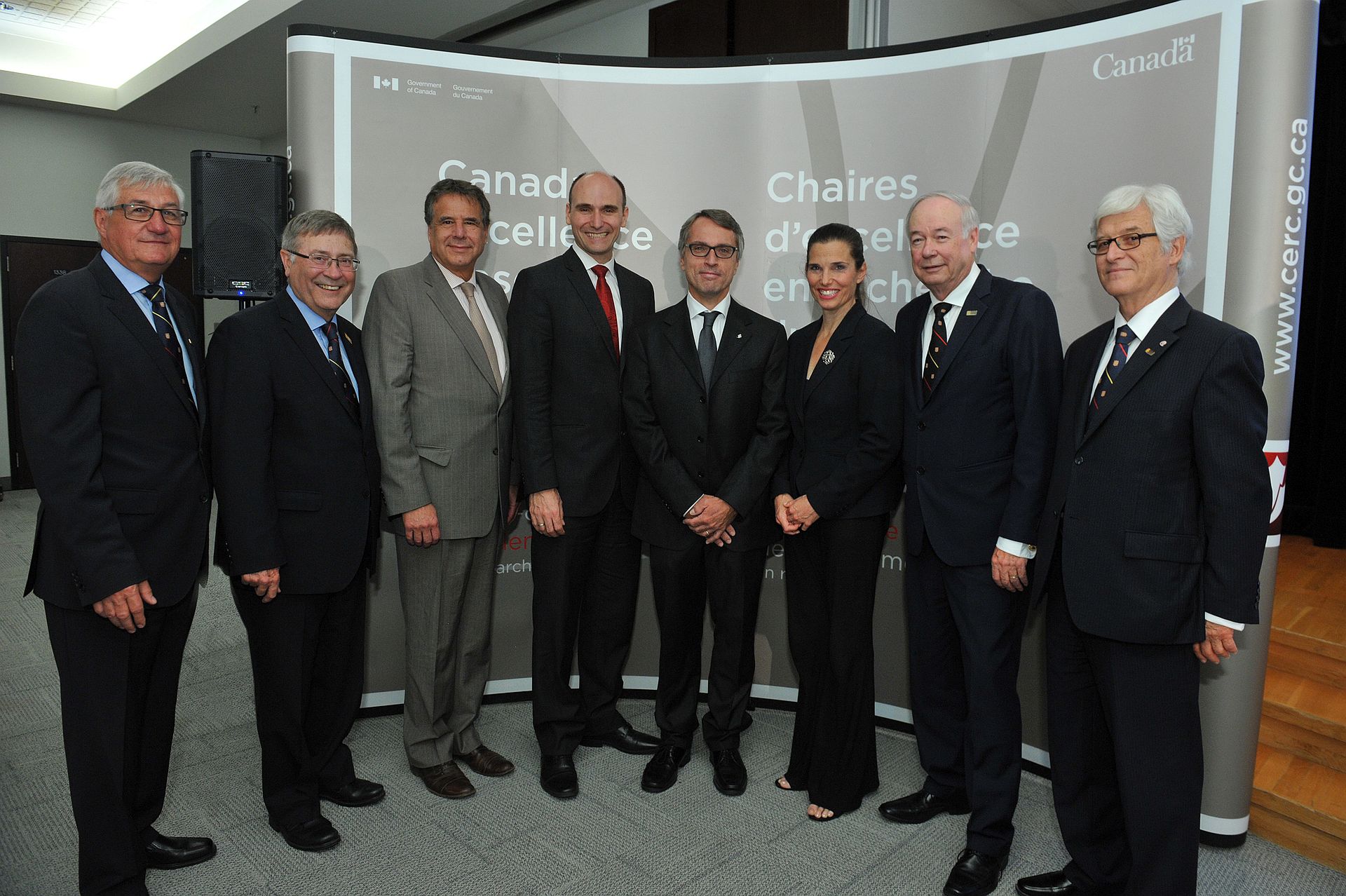 Québec City, July 5, 2016 – Université Laval rector Denis Brière and the federal minister of science, the Honourable Kirsty Duncan, announced today the creation of a Canada Excellence Research Chair (CERC) on the Microbiome-Endocannabinoidome Axis in Metabolic Health. This is the first-ever research chair in the world dedicated to the study of gut microbiota, impairments to it, its influence on obesity-related inflammation, and its connection to the onset of Type 2 diabetes and cardiometabolic disease.
Headed by Italian professor Vincenzo Di Marzo, a worldwide authority in endocannabinoid pharmacology, this unique chair will push back the limits of obesity research by combining studies on the microbiome—now recognized as the second human brain—with conventional approaches to shed light on the mechanisms controlling metabolic responses to nutrition. The chair will help develop new therapeutic approaches and innovative nutritional and medical strategies to maintain health and prevent metabolic complications associated with obesity, a multifactorial disease seen as one of the most pressing social issues of the 21st century.
Vincenzo Di Marzo's research will focus on the gut flora system, which he will study as a whole to determine how it works. Gut flora are an exogenous system of micro-organisms working in symbiosis with the human organism. Housed in the gastrointestinal tract, these micro-organisms play a key role in various bodily functions, including metabolism and immunity. Gut microbiota composition depends on nutrition. Studying how diets change its structure and functions is therefore vital to understanding its impact on cardiometabolic health.
«We already know a lot about the gut microbiome. We know its composition—primarily bacteria, viruses and yeasts—and that some are beneficial to the human body, and some less so,» says the new chair holder Vincenzo Di Marzo. «We also know that if we alter the relative composition of a person's gut microbiome, there will be consequences for their physiology. Indeed, there are strong links between this and inflammatory bowel disease and other intestinal conditions, obesity, metabolic and cardiovascular disorders, and even cancer. This is what I hope to find out. I want to examine the microbiome at a molecular level. I want to see how it communicates with the human body. We know that the gut microbiome comprises 'good' bacteria and 'bad' bacteria—and that these are usually well balanced. The gut plays a key role in various bodily functions, including metabolism and the immune system. But if the equilibrium of the microbiome is disturbed, a phenomenon called 'dysbiosis' occurs that has consequences for the body.»
Highlights
Obesity facts
Nearly two billion people in the world are obese or overweight, contributing to the rising prevalence of cardiovascular disease, diabetes, high blood pressure, strokes, pulmonary embolisms, osteoarthritis, and some cancers.
This global health issue is associated with urbanization and mechanization, which lead to overeating and physical inactivity.
In Canada, obesity is a heavy burden on the economy—in 2015, Statistics Canada estimated that 3.5 million Canadians had Type 2 diabetes, a metabolic disease directly associated with obesity that cost the country over$14 billion that year.
Internationally renowned Italian chair holder at Université Laval
Vincenzo Di Marzo is recognized worldwide as a leading authority in endocannabinoid pharmacology.
He serves as director of the National Research Council's Biomolecular Chemistry Institute in Pozzuoli, Italy, and coordinator of the Endocannabinoid Research Group in the Naples Area.
Thomson Reuters named Vincenzo Di Marzo one of the most cited scientists in his field in the last ten years.
He will arrive at Université Laval in summer 2017 and will serve as full professor at the Faculty of Medicine and the Faculty of Agriculture and Food Sciences.
Over$21 million in total investments
Université Laval's fourth CERC was made possible by a major financial contribution of$10 million from the Canada Excellence Research Chairs Program.
The Québec Heart and Lung Institute (IUCPQ) is investing, along with the IUCPQ Foundation,$1.13 million in funding and$1.48 million in services.
UL is contributing over$9.8 million.
Unprecedented interdisciplinary research
The chair will be driven by the scientific expertise of Université Laval's FMED and FSAA
INAF, known for its multidisciplinary work on the study of food—its components and how they affect health—and the prevention of metabolic syndrome and other chronic nutrition-related diseases, will take part in the research.
The expertise that the Québec Heart and Lung Institute Research Centre affiliated with Université Laval (CRIUCPQ – UL) has developed through its integrated studies in obesity and chronic social diseases will be drawn on heavily.
Four centres of excellence at Université Laval
Université Laval is the first university in Canada to contribute to the new CERC Program and the advancement of knowledge through a framework of major leading-edge research programs, having recruited four prominent scientists of global renown: Marcel Babin, Younès Messaddeq, Pierre Marquet, and Vincenzo Di Marzo.
With its fourth CERC, Université Laval is the only Canadian university to excel in four key fields: the Arctic, optics-photonics, neurophotonics, and now the microbiome, nutrition, and metabolic health.
Through its research and innovation, Université Laval is raising Québec's and Canada's visibility on the global stage.
Establishment of an International Joint Unit (UMI) for chemical and biomolecular research on the microbiome and its impact on metabolic health and nutrition
In addition to serving as chair holder of Université Laval's fourth CERC, Vincenzo Di Marzo will also lead a UMI created in cooperation with Italy's National Research Council.
The UMI is a bilateral research unit between Italy's National Research Council (CNR) and Université Laval, whose main goal is to strengthen scientific and technological cooperation through student and professor/researcher exchanges in leading-edge bilateral research projects.
It brings together CRIUCPQ – UL, INAF, the Italian National Research Council's Biomolecular Chemistry Institute and Chemical Science and Material Technology Department, and Université Laval's FMED and FSAA.
The UMI is a unique research and teaching environment in which seminars, specialized training, and ongoing training meet the tangible needs of future health practitioners who will be working with patients suffering from obesity, diabetes, and cardiometabolic disorders.
Quotes
«This fourth Canada Excellence Research Chair to be awarded to Université Laval and will establish a one-of-a-kind research program into changes in intestinal microbiota, linking obesity to gastrointestinal function and to cardiometabolic diseases that compromise health. With Vincenzo Di Marzo at the helm, this Chair will also showcase our capacity to address major current social challenges, particularly by developing innovative nutritional and medical strategies.»
— Denis Brière, Rector, Université Laval
«With the arrival of Vincenzo Di Marzo at Université Laval, Canada is gaining a world leader in biomolecular chemistry. The Government of Canada is proud to support his promising research, which may one day relieve those suffering from metabolic disorders such as obesity and type 2 diabetes in Canada and around the world.»
— The Honourable Kirsty Duncan, Minister of Science
«The Canada Excellence Research Chair Program brings the world's most prestigious researchers to Canada. Dr. Di Marzo is the first research chair in the world devoted to study how microorganisms in our gut are linked to disease. His research will lead to new discoveries to benefit the people of Quebec and citizens across Canada.»
— Jean-Yves Duclos, Minister of Families, Children and Social Development
«Dr. Di Marzo brings to Canada a wealth of experience in metabolic disorders and a proven track record in developing therapies from natural sources. His research will contribute to the development of a burgeoning field in Canada, and help researchers understand a little-known, but hugely important, part of the human body.»
— Ted Hewitt, President, Social Sciences and Humanities Research Council, and Chair, CERC Steering Committee
«Over the past five years, enormous advances have been made in our understanding of the connection between gastrointestinal micro-organisms and the brain's endocannabinoid system. Dr. Di Marzo and his team are working at the cutting edge of this burgeoning area of research and will help to position Canada as a world leader in this field. We are proud to support their efforts, which will ultimately lead to better treatments for a wide range of conditions, including obesity and cardiovascular disease.»
— Alain Beaudet, President, Canadian Institutes of Health Research
Videos
Additional links
Follow the Université Laval media relation team on Twitter: @ulavalmedias
About Université Laval
Université Laval, located in the world heritage city of Québec, is the first French-language university in North America. It is one of Canada's top research universities, ranking 6th among the country's institutions of higher learning with a research budget of$325 million last year. Université Laval boasts more than 9,370 employees, including 3,685 professors, lecturers, and other teaching and research staff who share their know-how with more than 42,500 students, more than a quarter of whom are enrolled in graduate studies. Université Laval obtained STARS accreditation in 2014, ranking first in Canada and ninth worldwide for sustainable development. In 2015 it became Canada's first voluntarily carbon neutral university. The university currently has more than 277,000 alumni.