International cooperation projects
Université Laval plays an active role in international cooperation by developing intervention, research, and training projects and providing technical assistance to other countries for the transfer and exchange of knowledge and services.
Today, the world faces multiple challenges, including security threats, the effects of global warming and climate change, migratory movements, communicable disease pandemics, persistent extreme poverty, and growing inequalities.
Université Laval plays a strong leadership role in sustainable development, and through its efforts, it has been able to establish promising relationships and partnerships with the community.
International cooperation projects often receive public or private financial support, but also benefit from official development assistance funding from various organizations, multilateral development banks, and development aid agencies, or directly from the countries and institutions supported.
Current projects
Université Laval has a number of major cooperation projects underway, most of them in partnership with recognized nongovernmental organizations in Canada and abroad. Drawing on UL resources and expertise, these projects are an opportunity to forge strong ties with our partners, share our knowledge and skills, and play a role in training participating students.

Projet d'appui à des services de santé adaptés au genre et équitables (PASSAGE)
Home faculty: Medicine
Partners: Éducation internationale, Fédération des cégeps, Réseau francophone international pour la promotion de la santé, Collaboration santé internationale, Association ivoirienne pour le bien-être familial, Association ivoirienne des professionnels de la santé publique, and the Youth Mission for Education, Health, Solidarity and Inclusion (MESSI)
Professor in charge: Maman Joyce Dogba
PASSAGE is an initiative that takes a holistic approach to promoting health and aims to bring together players in education, healthcare, and civil society to promote sexual and reproductive health and rights for teenage girls and young women in the Haut-Sassandra region of Côte d'Ivoire.

The Projet d'appui à la santé sexuelle et reproductive pour elles in Côte d'Ivoire is a 5-year initiative (2022–2027) that will reduce the social, cultural, and structural barriers limiting access and informed decision-making about individual health choices and sexual and reproductive rights for diverse groups of vulnerable and marginalized teenage girls in the Bas-Sassandra district of Côte d'Ivoire.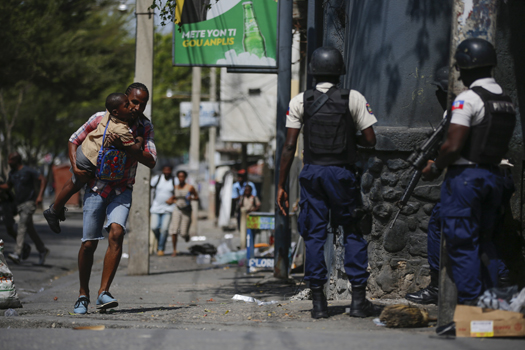 Haiti is currently in the throes of one of the worst crises in its history. The past decade has been marked by political instability and a security crisis that have paralyzed the country, caused parliament to malfunction, and hampered the economy, while fuelling an epidemic of armed violence and illegal armed groups.
Université Laval convenes North and Latin American expertise and Caribbean knowledge to discuss ways to deal with levels of armed violence as high as those in Haiti today.