Your stay at Université Laval
Explore the services and resources available to help you plan your student exchange at Université Laval as well as useful information on extending your stay and preparing for departure. Please note that some of the links in this section are in French only.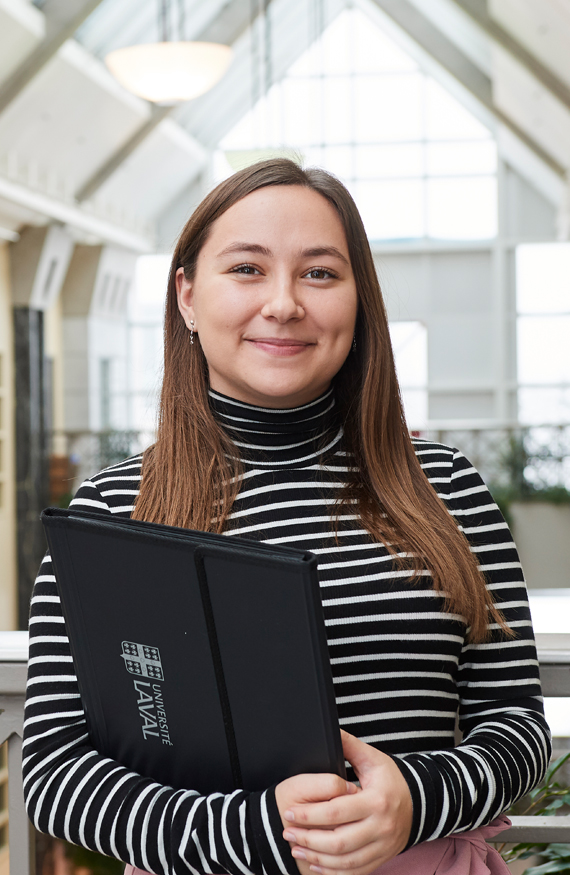 Preparing your stay
Services for international students
Find out about the services available to international students to help you get settled in and oriented during your time at Université Laval.
Student testimonials
Read testimonials from international students who have spent time at Université Laval and learn more about their experiences and about life in Québec.
Immigration
See the Immigration section for full details on immigration requirements for international students.
Insurance
Québec and Canadian immigration law requires non-Canadian students to have valid health and hospitalization insurance for the duration of their stay in Canada. Learn about the coverage available.
University student pass for exchange students
The university student pass (LPU) is an exclusive public transit pass for full-time students (12 credits or more) at Université Laval. Passholders enjoy unlimited access to regular service provided by Réseau de transport de la Capitale (RTC) and Société de transport de Lévis (STLévis), including the Québec/Lévis ferry (Société des traversiers du Québec), during the fall and winter semesters
Fall semester: valid September 1 to December 31.
Winter semester: valid January 1 to April 30
A few days after choosing your courses at your faculty, you'll receive proof of registration by email in your ulaval.ca mailbox. You can use this electronic document to sign up for the LPU.
For information on the sign-up deadline and the cost of the LPU, see the Exceptions section on LPU webpage (French only), under "Catégories d'étudiants pouvant demander l'adhésion".
If you missed the deadline or don't want the LPU, you can use your proof of registration to obtain an OPUS photo card entitling you to certain reduced fares on RTC and STCLévis buses.
Extending your student exchange
If your student exchange is for the fall semester only, you can request an extension.
Fill out the Extension of Stay form (PDF) to obtain authorization from Université Laval and your home university.
Email the form to your host faculty at Université Laval and to your home university to obtain the required authorizations.
Return the duly completed and signed form by email no later than October 10 to etudiantsentrants@bi.ulaval.ca.
You will receive an acceptance letter by email confirming the extension. Once you have received the letter, start the necessary immigration procedures without delay.
If you want to stay in Canada after your student exchange for work or for an internship, see the Working or doing an internship in Canada after your student exchange program section for information on the options available.
Before leaving Université Laval
Transcript
In accordance with Canada's Privacy Act, the Registrar's Office sends transcripts to students, not to educational institutions.
A transcript will be sent to you at the end of your exchange. Make sure you change your address in the academic advising system before you leave Université Laval to ensure your transcript is sent to your home address in your country of origin.
If you wish to have a transcript sent directly to your home institution's international relations department, you must submit a request on MonPortail and pay the supplemental transcript fee.
Make sure your grades are already entered in Capsule before requesting a transcript.
Proof of registration
You can request official proof of registration in MonPortail and immediately obtain a digital copy.
However, if you need personalized proof of registration (a form from your home university or other), you'll need to submit a request to the Registrar's Office. Please allow five working days to have the document prepared.
In both cases, fees apply.
Attendance certificates and scholarship forms that do not require proof of registration can be prepared at the faculty level.
Frequently asked questions for exchange students
The academic year is divided into three semesters (or terms):
Fall (September to December)
Winter (January to April)
Summer (1st session from May to June, 2nd session from July to August)
For more information, consult the university calendar.
A semester is a 15 week period of instruction, including exams and evaluation. The number of courses available during the summer semester is limited. Most courses are taught in the fall and winter.
Reading week is a period during which classes do not meet, giving students the opportunity to further their reading and to work on assignments. There is a reading week during both the fall and winter semesters
Reading week dates are shown on the university calendar.
.
Even though Université Laval is a French-language university, some faculties offer courses and programs in English. Note that access to these courses may depend on the program of study and may not be available to exchange students.
Faculty of Business Administration
Faculty of Arts and Human Sciences
Course in the English Literature and Linguistics and Teaching English as a Second Language programs are taught in English.
There are four student residences on campus, one of which is for women only. For more information on room cost and availability, visit the UL Residence Office website.
You should arrive at least one week prior to the start of your classes so you have time to complete admission formalities at the Registrar's Office, register at your faculty, and settle in.
The International Office does not provide financial support to visiting students. You should contact your home institution to find out whether financial aid is available.